---
News and Announcements:
---
EAA Air Academy Scholarship Application

---
AOPA ePilot Article on 2020 Rally

---
2020 Course Information and Results

---
---
---
AOPA Pilot feature article
---
AOPA ePilot Article
General Aviation News Article
---
History: 1970-1978 Results now available!
---
Check out the 1st Timer page if you would like more information about this event.
---
---
Please support our
sponsors

Without their support this rally would not be possible!
158,214
Visits Since
December 31, 1997

The Hayward Air Rally is the longest continually held proficiency flying event in North America. Having grown out of a personal challenge between Hayward city officials in 1965, the rally has now been flying for 57 years! We are pleased to announce:
The 58th Annual Hayward Air Rally
Was held June 3-6, 2022 from Hayward, CA (KHWD) via Redding, CA (KRDD) to Bend, OR (KBDN)
Download and post the rally flyer!
For 2022, we are planning a return to our long weekend format and heading north again! Back to Bend, Oregon – a racer-favorite destination.

Another change for 2022: In an effort to allow people to have Thursday and most of Friday for work or other activities we are shifting the schedule out by a day:

Friday June 3: Impound and Course/Safety Briefing
Saturday June 4: Fly!
Sunday June 5: Fun day and Awards Dinner
Monday June 6: Head home
A new idea for 2022: The Half-Rally Practice Option
If you would like to give the Rally a try with a smaller time commitment, consider this idea. You will participate in the Course and Safety Briefing, flight plan, submit your time and fuel estimates and fly just the first leg (HWD-RDD) of the Rally to get a practice score. After refueling in Redding, you are free to fly home at your leisure. Half-Rally participants will not be eligible for prizes or trophies. This is an opportunity to learn what is required and practice with our official scoring system and get ready to fly with us next year. There is a nominal fee of $25 to help cover our administrative and printing costs.

Countdown to the first starting flag:
---
Applications for the 2022 EAA Air Academy Scholarship are now available:
---
Congratulations to Mitzi and Dave Saylor, Race 11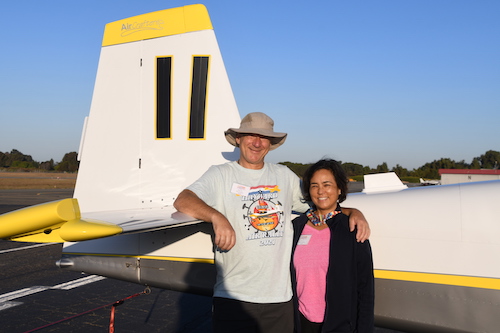 This is the second win in a row for Race 11 and vaults them into the Masters Class!

---
What is the Hayward Air Rally?
The rally means different things to different pilots, but for all it's a combination of competition, challenge, and camaraderie. The event is open to all pilots (student and recreational pilots must be accompanied by a suitable pilot in command) and most piston-powered GA aircraft (including LSAs and experimentals).
Competition
The specifics of the rally course are released at the rally briefing. Participants flight plan for the course and produce flight time and fuel consumption estimates for each leg of the rally. Scoring is based upon the performance of the accomplished flight against the pre-flight estimates, course checkpoint identification, and navigation equipment used. Details on the competition structure may be found via the About links above.
Challenge
While competition rules allow for the use of GPS navigation (and even digital fuel totalizers), many participants elect to use the scoring system that allows only "traditional" radio-based navigation aids - even if their aircraft are GPS equipped. As a proficiency rally, the course is designed to exercise cross-country navigation and pilotage skills. Enroute checkpoints have included identification of such items as bridges, distinctive buildings, and unimproved (think emergency) landing strips.
Camaraderie
Not everyone who flies in the rally is in it for the competition. For some, the rally is simply a weekend getaway with a group of great fellow aviation enthusiasts. The rally provisions a "hospitality suite" at the destination hotel where participants can gather to socialize, hangar fly, and boast or commiserate over competition performance. There is ample free time to explore local points of interest prior to the awards banquet.
A portion of each year's rally entry fees goes to fund EAA Air Academy scholarships for local students. We hope to inspire the next generation of aviation enthusiasts through this educational program!
Whichever reasons appeal to you, we hope you'll join us at the starting line for this year's Hayward Air Rally! Entry information may be found here.
---
Read the
September 2017 AOPA Pilot Feature Article
"Racing Against The Plan" by Mike Collins

---
Scholarships to EAA Air Academy
Each year the Rally offers scholarships to deserving students to attend the EAA Air Academy. In 2015, we sent three students to camp! The scholarship includes both tuition and airfare. This is an expensive but very worthwhile aspect of the Rally - aviation education.
If you would like to support this effort, even if you can't join us for the rally, please consider making a donation to help us defray the costs. If you are a member of EAA and you or your chapter have unused Young Eagle Credits, we can use those too! Please contact us to learn how to transfer those credits to support the scholarships.
Thank you!
---
2016 Informational Video
---
The Rally awards much more than just 1st, 2nd and 3rd place. You can see some of the other fun awards for 2015 here.
Please use the links on the menu bar above to learn more about this annual event.